baby, Elizabeth Afton, cupcakes, ice cream, more kids
Were you looking for circus baby?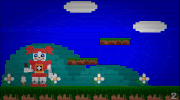 Elizabeth Afton dies in this minigame because she did not listen to her Father and went out to go see circus baby. Elizabeth was going to get the ice cream until Circus baby's eyes turned black and white pupils then circus baby's claw dragged Elizabeth Afton into circus baby.